Docks & Decks Unlimited Inc. is your Authorized Fendock Dealer.
A versatile lightweight and modular dock system, Fendock brings you year after year of summer enjoyment. Made of the finest quality structural aluminum, Fendock is environmentally friendly and maintenance free, no annual repairs or rebuilding are required. Professionally designed and tested, Fendock has been satisfying docking needs for over 45 years. With new environmental laws pertaining to waterfront property a Fendock portable docking system is ideal for your home, camp or cottage.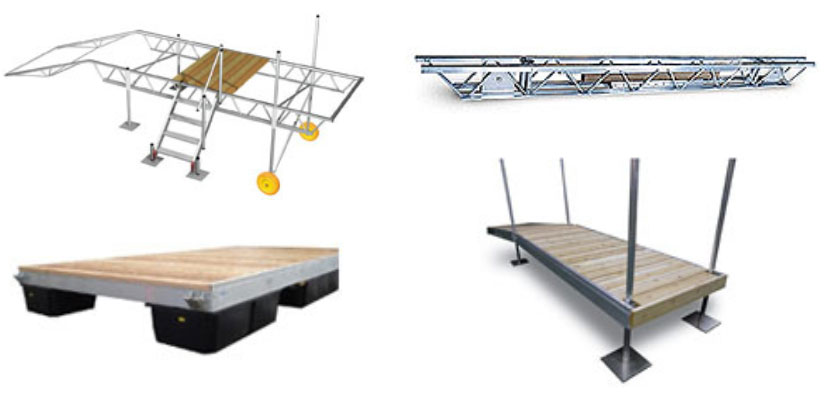 Packaged Boat Dock
This is how your Fendock comes packaged. Legs, pads, bracing, nuts and bolts are all contained between the pre assembled trusses. Can be transported on car roof racks, by truck or trailer. Total weight 123 to 215 lbs depending on model.
Fendock standard packages
Standard packages are available in 24 and 32 foot lengths, in widths of 4 or 6 feet. Each package includes 16 or 24 foot pre-assembled aluminum trusses, 8 foot approach ramp, two 4 foot and two 8 foot aluminum legs, hold-down decking clips, and all required hardware. Also available is a 16 x 12 foot wide deck dock and 24 x 12 deck dock.
Approach ramp: An 8 foot ramp assembly is provided in the standard package. Two pre-assembled aluminum trusses with connectors are included. Ramp pivots up or down to shoreline as desired.
Four tubular aluminum legs with "positive positioning" stainless steel fastpins are provided in the standard package. Legs are easily adjustable so you can raise or lower your dock quickly to suit changing water levels. To distribute dock weight evenly, self-leveling aluminum pads are included with the legs.
Custom Dock Systems
Multiple Fendock configurations are available


based on the standard packages. And it's easy to add more sections to your existing Fendock at any time.
The Docks & Decks Unlimited Inc. experts can also work with you to design a completely customized dock system
Warranty
Fendock is proud to offer a 5 year warranty which is a testimony of the quality workmanship and materials used in the manufacturing of our products. This warranty is valid only upon normal use and under normal conditions. Our detailed warranty is available on request.
Docks & Decks Unlimited Inc. offer a variety of boat lifts to fit your needs


CLICK HERE TO VISIT FENDOCK DOCK SYSTEMS WEBSITE.